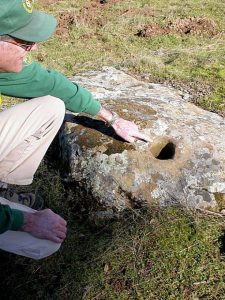 American Indian history
San Francisco Chronicle Article, by Tom Stienstra Published August 6, 2009
In a mound of dirt that I'd piled up, we saw a few tiny round shells with the tips snapped off. My dad picked one up and looked at it like he was a fortune-teller.
"See this little shell?" he said. "It used to be on the bottom of the bay." As a young boy who had a thing about digging holes (for no reason) in the backyard of our home on the Peninsula, I found that hard to believe, but he went on. "It's a California horned snail. The Indians would break off the end and suck out the snail for a snack."
That was my first lesson in the Bay Area's American Indian history. It seems now that just about everywhere you turn in a Bay Area park, if you know what you're looking at, there is proof that you are walking a trail through history.
Since James Benney self-published a 60-page booklet, "Native American Indian Sites in the East Bay Hills," that detailed more than 40 sites in parks, there's been a dispute over whether it is good or bad to reveal these locations:
Why it's good: It's good because exploring parks and discovering artifacts connects the visitor to the past and instills reverence. We conserve only what we know and love. What we don't know, we don't love, and hence, don't care enough to protect.
Why it's bad: It's bad because revealing locations invites vandalism and looting that causes irreversible damage. That's why sites must remain secrets among the rangers, archaeologists and American Indian tribes.
In the East Bay hills, it's far too late for the latter. So you might as well embrace the good. Here are a few sites, some easy, some you have to earn:
Mount Diablo State Park: This probably id the best-known site of mortars in the Bay Area. It is on the outer edge of the Live Oak Campground, near the Rock City rock-climbing area. Drive to the campground and then explore the outer perimeter among the oaks, looking for the sandstone rocks. Here you can discover 27 grinding holes used by the ancients. The nearby Elephant Rock Picnic Area also has some mortars. Info: (925) 837-2525; parks.ca.gov; Mount Diablo Interpretive  Association (925) 927-7222 or mdia.org.
Flag Hill, Sunol Regional Wilderness: This is a challenging but short climb with an unforgettable payoff. From the valley floor, you can see Flag Hill, a rock outcrop atop a foothill that towers over the Alameda Creek Valley. You climb 800 feet on a ranch road over the course of 1.25 miles to reach the perch. The views of the foothills of Mount Hamilton to the south are outstanding. Raptors hover nearby, including lots of prairie falcons, red-tailed hawks and occasionally golden eagles and peregrine falcons. Inspect the series of crags at the ridgetop to find Indian mortars and sea fossils. Info: (888) 327-2757; www.ebparks.org.
Morgan Territory Regional Preserve: As soon as you arrive at the parking area, you'll see the trail that heads up a short hill. This is the Volvon Trail. Take that trail up and over, and within a half mile, you'll arrive at an intersection. Ahead and to the right, there is a meadow edged by oaks. Hike out to the edge of the meadow and you'll find low-lying sandstone rocks. If you look closely, you'll find the grinding mortars in the sandstone. This is the first payoff on a great loop trip you can make out to Bob Walker Ridge (views of Los Vaqueros and San Joaquin Valley). Info: (888) 327-2757; www.ebparks.org.
Round Valley Regional Park: This is an easy bike-and-hike in a park that is often overlooked yet often becomes a favorite for those who learn of its treasures. From the north-facing ridges, for instance, the views across Round Valley to Mount Diablo make remote Alameda County look almost like wilderness. The trek to the grinding rock mortars starts where you cross a bridge near the parking area and then reach a road that runs along an old creek bed. Turn right on that road and head out 2.8 miles to the Murphy's Meadow Trail. There's a grove of oaks off to the nearby left. Drop your bike and hike over to the oaks, then explore to find 10 mortars. Info: Round Valley Regional Preserve, (c/o Black Diamond Preserve), (925) 757-2620; www.ebparks.org/parks/round.htm.