This surprising 30 bedrock mortar site is right next to Interstate 580 and part of the Ssaoam Tribe's complex that includes Frick Lake and Brushy Peak.
That's Brushy Peak over the hill.
All you have to do is scramble up the hill under the trestle.
You'll be right above Club Moto, a motorcycle racing track.
Carefully make your way up the hill under the trestle.
That's Club Moto below and the Livermore Valley and I-580. We could only find 19 of the 30 mortars we know are here from a previous count.
Those Indian Soap Plant bulbs await their many uses.
Ancient Ssaoam and Volvon Village sites dot the landscape.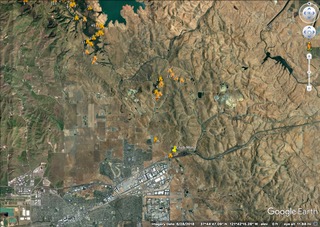 To view our complete Bay Area GoogleEarth map
go www.eastbayhillpeople.com/map