75 bedrock mortar village site in Fig Pig Gulch discovered by a friend.
Enter Los Vaqueros off of Vasco Road.
On the other side of this little lake just past the Marina you are looking right up Fig Pig Gulch.
Head up the West Loop Trail for maybe 1/2 mile until it levels off.
Follow the little rock outcrop on your left until you find this dirt road heading down into the gulch.
This old water tank sits right in the middle of this ancient village. Mortars here and down the creek on the other side. Lots of downed trees over the last couple of winters. In the old days there wouldn't have been a stick of dead wood within a mile of any village.
This beautiful 14 mortar slab features several conjoined or closely paired conical mortars. There is a fine elliptical mortar on the rock as well.
Volvon Territory friends. There is a lot to appreciate here.The hiking around doesn't hurt either.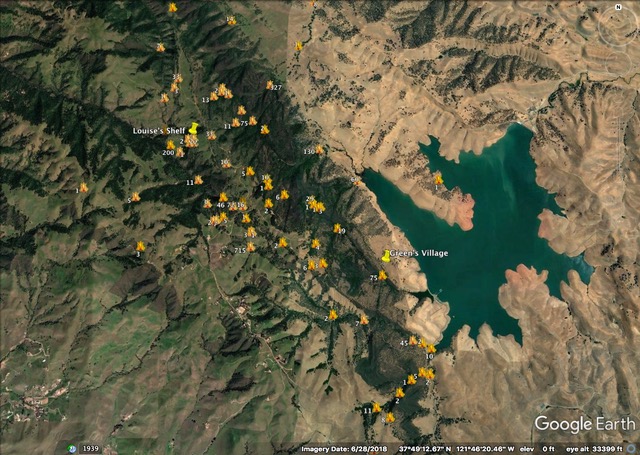 To view our complete Bay Area GoogleEarth map
go to www.eastbayhillpeople.com/map