Sindicich Lagoon – Briones Regional Park – Lafayette Entrance
Head on out the Abrigo Valley Trail. This is a 5-6 mile round trip with a several hundred foot climb up to the top of the world. Great trails all around.

Most of the way up the hill turn right on the Briones Crest Trail.

Do not take the first Lagoon Trail down to the left unless you want to pound down a couple extra miles. Bob did. Said it was very nice. That's the sacred mountain Mt. Diablo looming in the distance.

Take the second Lagoon Trail to the left.

This singleton mortar, accompanied by 2 possibles, is about 150 yards north of the lagoon. What the heck somebody was processing here we don't know.

The Lagoon is very special. Worth a visit. You can get here via several trail heads into Briones Park, including Martinez.

The fires indicate the number of bedrock mortars we have found at each of these remaining important sites.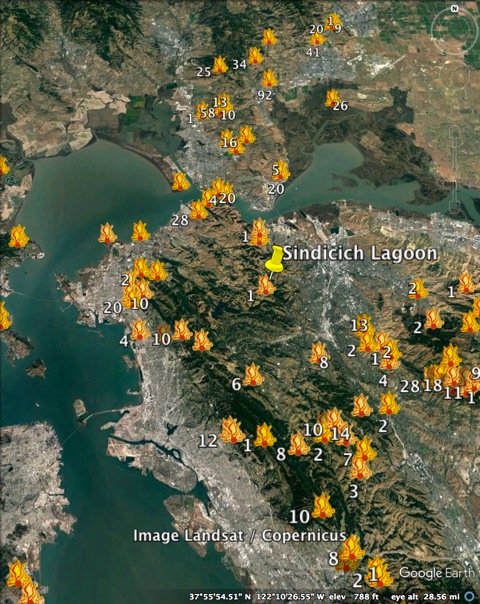 To view our complete Bay Area GoogleEarth Map click on