John Finger Art
The main Volvon Village in Morgan Territory
Livermore – Over 700 bedrock mortars
The largest intact Native American Village site in central California that we know of.
Private property at the source of the year round springs.
Start Here
One quarter mile from the parking lot you descend into the western end of this village. Very few people realize the Native American history of right where they are standing. This little cluster of rocks holds several bedrock mortars.
Turn right. These next two adjoining clusters reveal 30-40 varieties of mortar sizes and shapes.
We believe this circle of rocks was placed here purposefully, a long time ago.
This trail continues through the village, with little mortar clusters tucked in everywhere. We think this trail is as old as time.
Over this fence on the plateau are another 500 bedrock mortars. This section is on Contra Costa Water District land. Not only do they not want you to go there, they don't want you to even be aware that it is there. But it is, and was probably a thriving pulsing home for the Volvon tribe for many thousands of years, right up until the arrival of Junipero Serra
and the soldiers.
If you hike around on the official Black Hills Trail you will walk right through the lower portion
of this village, which stretches for 1/2 mile, with more bedrock mortars right next to the road.
John Finger art
The fires indicate important remaining Native American Indian sites we have recorded and the numbers represent our current count of bedrock mortars at that site.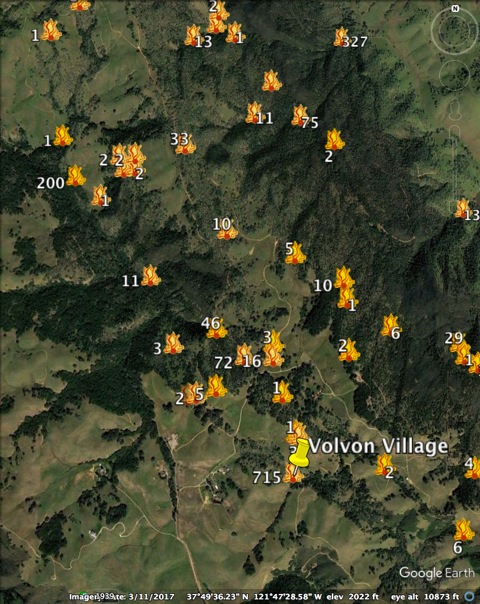 To view our complete Bay Area GoogleEarth map
go to https://eastbayhillpeople.com/eastbayhillpeople/Map/

My overall response to this situation can be found at www.eastbayhillpeople.com
"To whom it may concern"
Also View our Volvon National Park Proposal
And to be more specific, under "Resources"
read the Volvon Village proposal