Gossip Rock
Garin Regional Park – Hayward
Right off Mission Boulevard and away you go!

The simplest approach, roughly 5 miles round trip, 1000 foot elevation, is to take the High Ridge Loop Trail. We decided to take the Dry Creek to Pioneer Trail route and discovered a Hayward we didn't know existed.

Gossip Rock is one of very few park district Native American sites worthy of a signpost.

Nestled in a little grove of trees, this 5 bedrock mortar site offers outstanding views.

Many human bottoms have warmed and worn this spot for unknown centuries into the deep past.

Take a picnic. Take a book. Take a friend.

The fires indicate important remaining Native American Indian sites and the numbers indicate how many bedrock mortars are still visible there.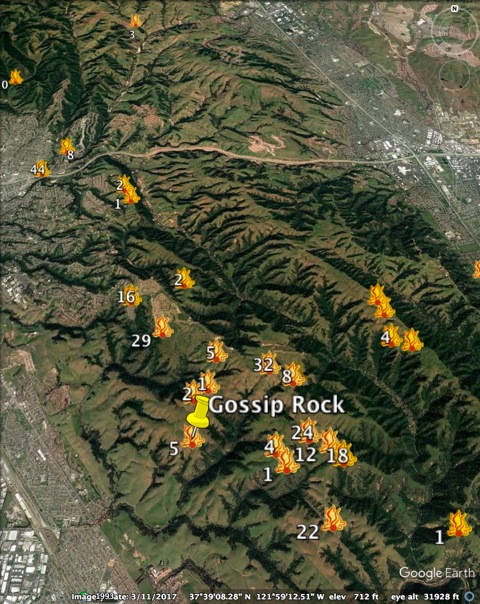 To download our complete Bay Area GoogleEarth map go to
www.eastbayhillpeople.com/Map.html