Here are three images of Bay Area indigenous natives.
The two colored views are by Louis Choris from the 1816 visit of the Rurik, a Russian vessel.
By 1816 most, if not all, Indians had been cleared from lands bordering San Francisco Bay.
Spanish soldiers Missionized the last Volvons in 1806, for example.
However, Northern Yokuts filtered back into the rich estuarine bayside lands to hunt.
By 1816 faunal populations had exploded since no Patwin, Miwok, or Ohlone hunters remained to check their numbers. They were trapped in the Missions or had fled north and east.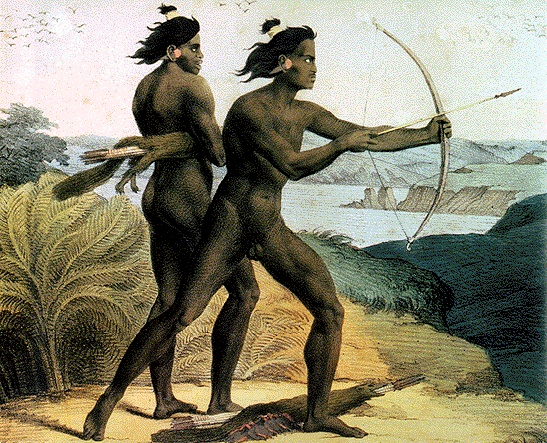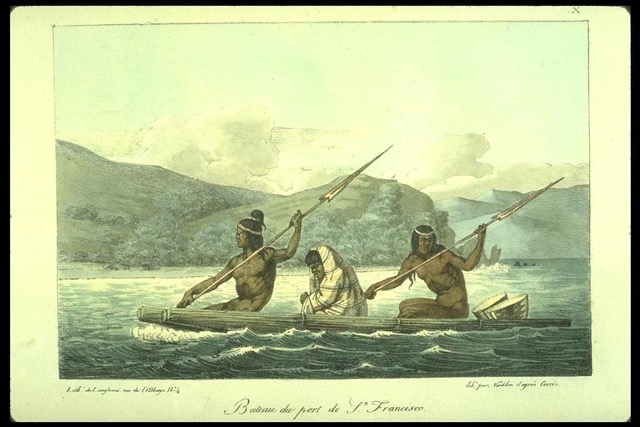 Note that the Woman in the tule balsa is wrapped in a Mission blanket while the Braves were naked as always.
Early European explorers/conquerers marveled at their adept maneuvering around the Bay and even out into the ocean.
From Ayala's report on Canizares' reconnaissance and mapping of the North Bay in 1775:
"This Indian village has some scows or canoes, made of tule, so well constructed and woven that they caused me great admiration.
Four men get in them to go fishing, pushing with two-ended oars with such speed that I found they went faster than the launch." The Village in question was either at Crockett or Glen Cove.
Today's natives call Glen Cove Sogorea Te.(click for more info)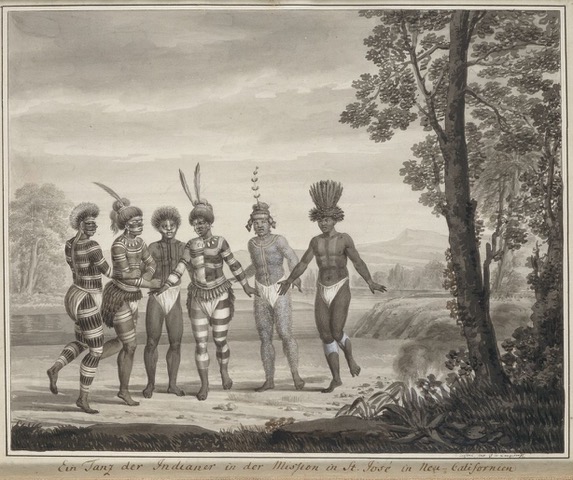 This black-and-white image by Georg von Langsdorff dates from the 1806 visit of the Juno—the famous Rezanov expedition.
We think one of these dancers at Mission San Jose could have been Kaaknu The Volvon.
Chief of Chiefs. Contemporary Ohlone people remember him as "The Captain".
Pre contact Indians didn't wear loin cloths or even spin cloth.
Did prudish padres force dancers to cover up or did the artist himself fake the loin coverings so as not to shock his blue-nosed Prussian audience?
Painting the bodies in preparation for the dance had to take time and be for specific purposes.