Spring 2015
Volvon National Park A Vision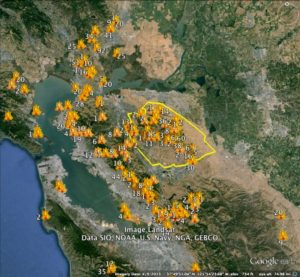 The Volvon Tribe controlled Mount Diablo and the Black Hills to the south east for perhaps thousands of years. Native Americans throughout central California recognized Mount Diablo as the hub of their spiritual universe and origin myths, and still do.
The civilized and cosmopolitan Volvon culture was far more developed, settled, and pervasive than is generally recognized or acknowledged.
Today the entire Volvon territory is virtually undisturbed from the time of their tribe's extirpation just over 200 years ago.
We have identified over 80 intact village and camp sites and over 2000 bedrock mortar holes in Volvon territory alone.
Our proposal is to combine all the nearby tribal territories that are contiguous to Mount Diablo, and lying in mostly undeveloped open space, into one monument to Central California Indians and their culture.
Volvon National Park would encompass Mount Diablo, Morgan Territory, Los Vaqueros, Black Diamond, Brushy Peak, the Marsh House, and the North Livermore Road area north of Interstate 580.
A tribal consortium of the immediately adjacent tribes (Chupcan, Saclan, Tatcan Ssaom, Yokuts) could be organized to help develop the National Park along with all other central California Native Americans that still revere the mountain's presence in their lives.
Established private property owners would not need to be displaced but future development would be limited to protect Volvon National Park.
This is just the seed of an idea. It will only need more public, Native American, and academic interest and awareness to grow. The story is too important to ignore.
James Benney info@eastbayhillpeople.com
Note: Click on map for a larger view.
Printable Page:
Download a PDF of the proposal