Jaime's Knob – Walnut Creek
Our friend Jaime (pronounced High me) turned us on to this cool spot.
Go past Northgate High School on Castle Rock Road and turn right on Comistas.

Park on the road and head up the Hannah Grove Trail

When you get to the main gate go to the right on the Costanoan Trail. A 30-40 minute walk in the woods.

Every little knob is a nice spot to hang out.

This one is especially nice.

These mortars within a basin are very unusual. At least 13 bedrock mortars at this site. A camp.

An enchanted setting.

That's Northgate High School right below.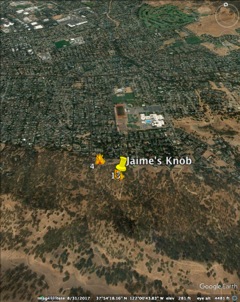 To view our complete Bay Area GoogleEarth map
go to www.eastbayhillpeople.com/maps