15 bedrock mortars plus cupules.
Elevation 1375 ft.
Our master site finder and his flintknapper friend went to visit the Canyon Milling site and inspect changes wrought by the SCU fire of 2021. They diverged from the approved route down and serendipidously discovered this cool site. That's Los Vaqueros reservoir in the background. The dam is out of sight at the reservoir's extreme left. Vasco Caves lie in the distance beyond the small tree stump. The Canyon Milling site is directly below us. The SCU fire cleared out much of the virtually impenetrable vegetation here, but it won't be long before this site is once again inaccessible to all but the most ardent bushwhackers.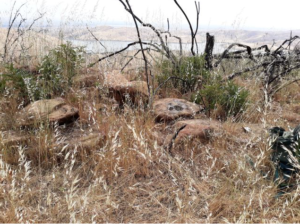 A closer look at the cupule bearing rock.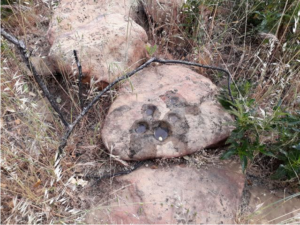 Home in on a small rock escarpment to find this likely multiuser workstation.