Press Release Please Release Press Release
The 15 year effort by East Bay Hill People to gain recognition for the most important Native American village site in Central California has fallen on deaf ears.
Central Californian Native American tribes venerated Mount Diablo as a sacred mountain. Native people visited Mount Diablo for ceremonies, rituals, and trading for thousands of years. The Volvon tribe controlled access to the slopes and peak of Mount Diablo. Over 80 villages, camps, and food preparation sites and over 2,000 bedrock mortars of every variety remain intact throughout the 100 square mile former Volvon territory.
The main Volvon Village alone features over 700 bedrock mortars spread over a ½ mile long site. Park and Water District managers, archaeologists, and some Native Americans have pursued a coordinated, calculated, clandestine policy to conceal and protect Volvon sites from what they say is an ignorant, disrespectful public.
We believe this policy diminishes the significance of Volvon sites and leads to further suppression of knowledge of, and interest in, this long lived civilization that preceded us. It has severely limited our understanding and appreciation of California's human history prior to European Colonization.
To sit in these camps and villages and contemplate the lives lived there can be a transformative experience.
This opportunity exists for any casual hiker and can be easily accessed through our Travelogues at eastbayhillpeople.com/travelogue or better yet via our Google Earth map at eastbayhillpeople.com/map](https://eastbayhillpeople.com/eastbayhillpeople/map).
For more information on this subject please review:
Tom Stienstra's 2018 column on Volvon National Park https://eastbayhillpeople.com/eastbayhillpeople/national-park-proposal/
KTVU's 2008 story on the Volvon Village https://eastbayhillpeople.com/eastbayhillpeople/resources/ktvu-special-report-video/
The East Bay Express story on The Indian Hunter from 2007 https://eastbayhillpeople.com/eastbayhillpeople/resources/the-indian-hunter/
and much more at:
https://eastbayhillpeople.com/eastbayhillpeople/the-stark-disconnect/
or contact the East Bay Hill People Press Liaison Richard DeGraffenreid richarddegraffenreid@comcast.net
707-315-1874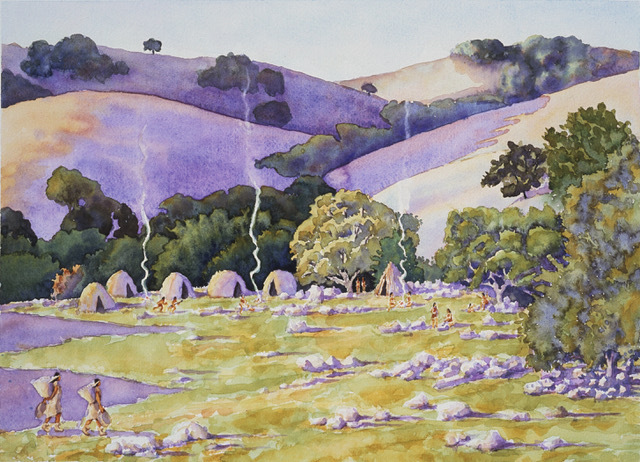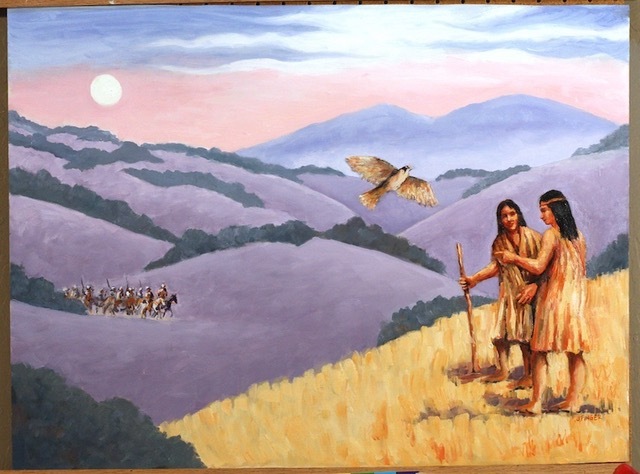 Kaaknu the Volvon tribal chieftan was a real person. Recorded history shows that he attained prominent stature during his lifetime, which started in 1770 in a benign 10,000 year-old Native American cultural environment around Mount Diablo, east of the San Francisco Bay. In thirty-five short years he saw the complete dissolution of his tribe and the total loss of all of their ancestral territory to Spanish soldiers and settlers and the Jesuit Missions. He died in 1826 at Mission San Jose. Very little is known about him. Bay Area Native Americans still today refer to him as "The Captain".